---
PARIS: HOW TO GET FROM CDG TO NOTRE DAME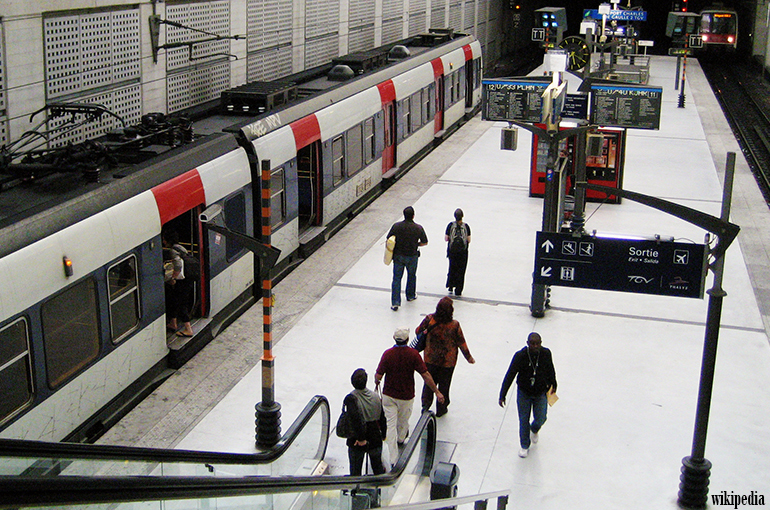 I sent the following information to a friend who was flying from San Francisco to Italy with an overnight layover in Paris, France. He had never travelled internationally before and wanted to leave the airport to see some sights. The following is what I sent him.
Once you are in Paris, you won't be able to check into your Italy flight until 3 hours before, when the ticket counter opens. So around 4:30 am, you will be able to do that, show your passport, get your boarding pass, etc. This means you will have to sleep in the area near the ticket counter and not after you've gone through security, since you have to have your boring pass in hand to go through security.
Also, double check in San Francisco if your luggage is being transferred to your continuing flight to Italy or if you have to pick it up in Paris, since the layover is so long. If you have to collect it in Paris and then re-check it the next morning, ask where you can lock it up in the CDG Airport so you don't have to haul that around with you.

Download and save all these links and images to your tablet so you can refer to them without wifi.
Paris airports are accessible via the RER train system, rather than the Paris Metro.
Europe runs on the military 24:00 time schedule.
The quickest & least expensive way to get to Paris from Roissy-Charles de Gaulle (CDG) Airport is by taking the RER B suburban city train leaving from either CDG Terminal 2 or Terminal 3/Roissypole.
The last train at night from Paris Gare du Nord to CDG leaves at 12:14am (past midnight) arriving at Terminal 1 at 12:47am, Terminal 2 at 12:49am. Verify times when you get there.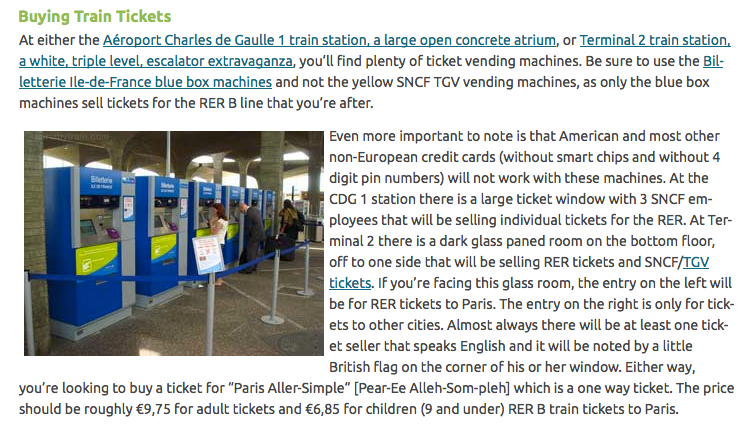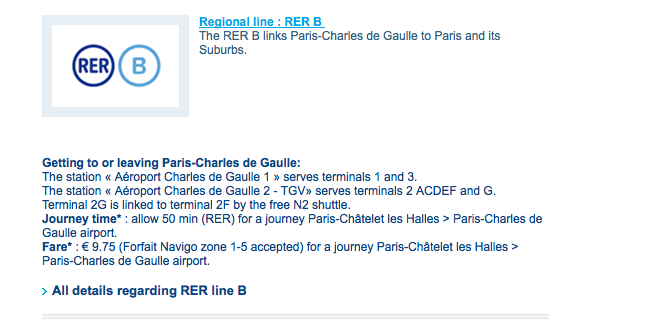 1. CDG Airport MAP. This will save you a lot of heartache and stress.
If you're landing at Terminal 2, keep in mind that there are 7 sub-terminals and you must make your way to the train station which is located between sub-terminals 2E and 2F.  There will be numerous signs through the terminals pointing towards the Paris RER train.
CDG Airport has two train stations, Aérogare 1 and Aérogare 2. (Note that these are not the same as Terminals 1 and 2). 

2. The RER Explained. 
The Airport is in RER Zone 5. The last train leaves Paris around midnight.
3. RER B LINE STATION STOPS
4. How to get from the airport to St Michel/Nôtre Dame (station) 
– read to the bottom of the webpage
5. How to get from St Michel/Nôtre Dame to Aéroport Charles de Gaulle / Mitry – Claye 
– read to the bottom of the webpage
6. Getting to the Eiffel Tower from CDG – do this backwards, since the Eiffel Tower is your last location before returning to airport.
The Eiffel Tower's nearest metro/RER station is Champ de Mars / Tour Eiffel on the RER C train line (yellow line on maps) . From either Terminal 1 or 2 at CDG take the RER B (blue) train line from towards Paris (direction Antony, Robinson, St-Remy-les-Chevreuse). Upon arriving at station St-Michel Notre Dame switch from RER B to RER C (yellow) in the direction of Versailles-Rive Gauche. Descend from the train at station Champ de Mars – Tour Eiffel.
See attached image of how to get from the Eiffel Tower to CDG Airport via the RER. This cost around $11. However, you will need to figure out the train times to make the last RER connection at the St Michel/Nôtre Damestation.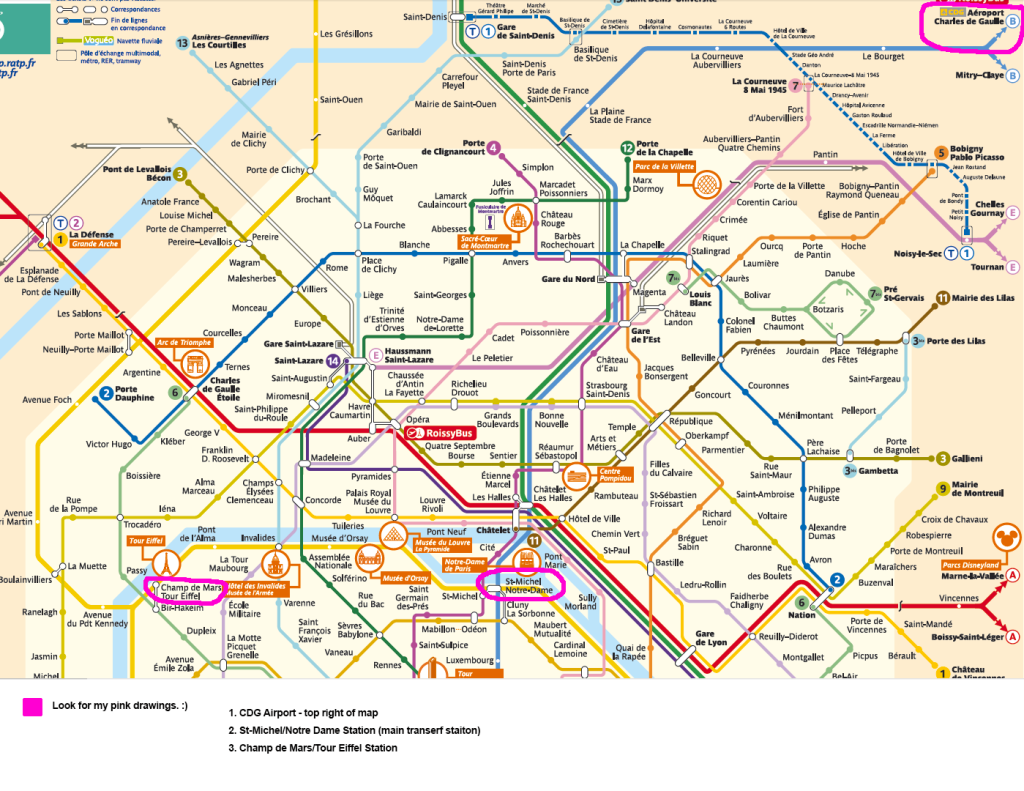 7. If you are too late to take the RER Train, here's taxi information. Print this so you can show the taxi driver the price and route to take you back to the airport. Price should be around 47,05 € (from 5:00 pm to 10:00 am).

Recommended Posts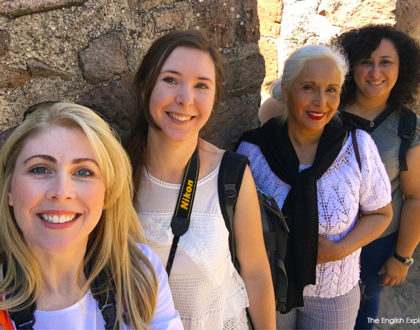 March 02, 2021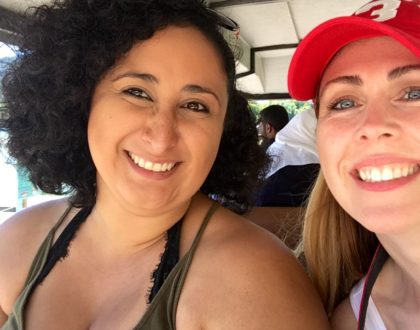 January 17, 2019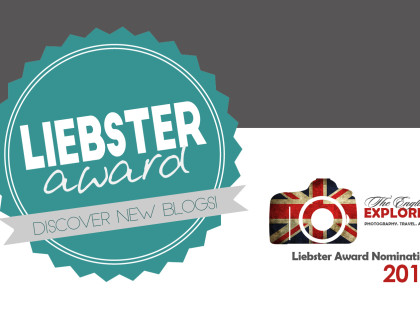 April 08, 2016